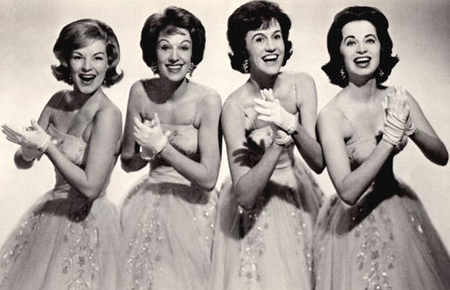 (Not actual singing group)
Along with three other friends, Anso, Amel and Gégé, we have decided to form a singing group. We have been talking about it for ages and now we have started meeting every Thursday morning for some "la, la, la". I have so much fun, in fact we all do. It's
sans
kids and everyone brings a song, so far we've had stuff in English, French and Portuguese. I'm discovering some great music and getting to share some of the music I love. Something about singing is so envigorating, and so unifying. I think we all felt a bit stupid at first, but then the music grabs you and you just go with the flow.
Last week Anso brought along a French classic,
L'amant de Saint-Jean
that I didn't know but instantly fell in love with and have become (to Fanf's horror) slightly obsessed with. Have a listen, sung here by the incomparable Edith Piaf:
But Fanf's horror doesn't end there because the mini-beasts have also become obsessed. And here, for your listening pleasure, are there own incomparable versions of
L'amant de Saint-Jean.