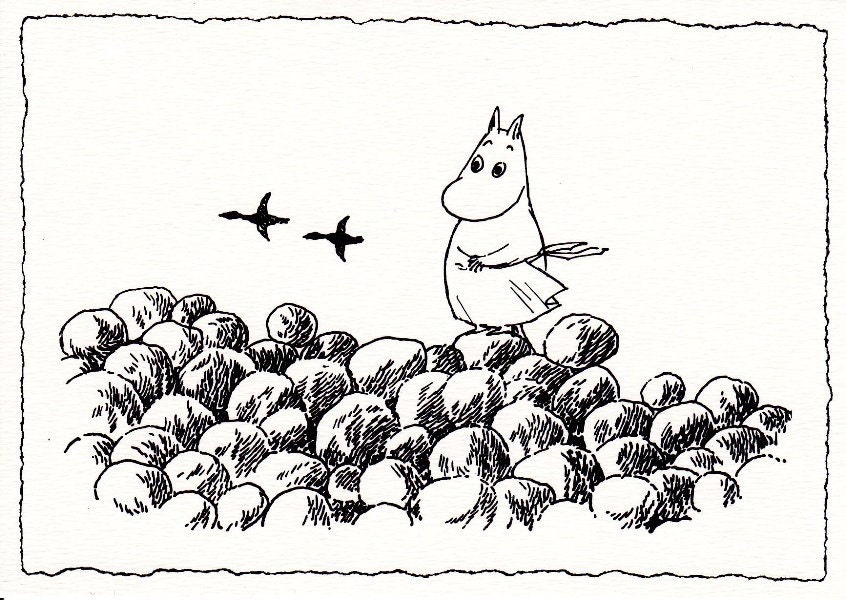 I have many maman friends who inspire me but I also have one very important source of literary inspiration: Moominmamma.
For quite a while now the bedtime routine round here has involved tucking the mini-beasts up in bed and reading them a chapter of a book. A proper book, with illustrations, but not a picture book. We've read
Winne-the-Pooh
and
The House at Pooh Corner
, we've read
The Twits
and
Fantastic Mr. Fox
, we've read a couple of Paddington books. I'm not sure how much Matilda and, especially Owen, take in but I think it's good to get them used to enjoying the words and to building relationships with characters who they've grown to know and love, without pictures. For both of them, their absolute favourite characters are the Moomins whose adventures are liberally interspersed between the others. Generally if there is a change of author it is at my suggestion, the kids always ask for the Moomins. I think we can say that my work as a mother is done.
When I'm reading Tove Jansson to the mini-beasts I'm continually struck by thoughts and ideas which I love and want to remember so I decided that I'd try and note them down here. And they tend to be thoughts and ideas which come from Moominmamma. We're just finishing up the third book so I've missed out on some of the earlier stuff but no doubt we'll come back to them. I also miss the nights when Fanf reads (we take it in turns) so I'll just have to reread (for the umpteenth time) the whole lot myself. Ah, life is hard.
Anyway, for my pleasure, and hopefully for yours, two Moominmamma quotes that speak to this Minibeastmamma, taken from our current Moomin book
Moominpappa at Sea
.
"What a pity mothers can't go off when they want to and sleep out of doors. Mothers, particularly, could do with it sometimes."
"'We've found a crate of whiskey,' Moomintroll told her.
'Splendid!' said Moominmamma. 'Then we must go for a picnic!'"