... or is it?
Is it
?
Would you read something written by this man?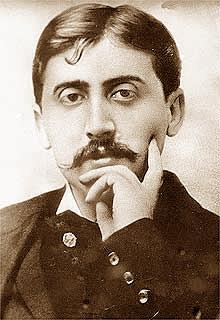 When I was at university I declared that life was too short to read Proust. So I didn't.
Recently I read
The Hare with the Amber Eyes
by Edmund de Waal, in which Proust and
A la Recherche du Temps Perdu
are mentioned frequently and I found myself asking the question again, is life too short to read Proust? Only an idiot never changes their mind. So I decided, perhaps not. I trotted off to the local bookshop to pick up a copy (of the first volume, there are seven). I read the back. I read the first page. It looked dull. I put it back. I left, avoiding the eye of the bookseller. I had been judged and found wanting.
But, the question remains, is life too short to read what is supposed to be one of the greatest and most influential novels of the twentieth century? One of the first, perhaps
the
first modernist novel.
There are a number of these classic literary behemoths which I would place in the
Life's Too Short
category. Some I have read and loved.
Belle du Seigneur
, Albert Cohen
Dead Souls
, Maxim Gorky
Nicholas Nickleby
, Charles Dickens
The Mill on the Floss
, George Eliot
The Brothers Karamazov
, Fyodor Dostoyevsky
Vanity Fair
, Thackeray
Some I have read and desired immediate restitution.
Moby Dick
, Herman Melville
Tristram Shandy
, Laurence Stern
David Copperfield
, Charles Dickens
Don Quixote
, Cervantes (he tilts at windmills on page 50, and it's downhill from there folks)
Which literary doorstops have you read? Which would you recommend? Which should I avoid? Would you read Proust?
Have
you read Proust?
These are not rhetorical questions, I am flying solo this week and would love to hear your thoughts on all things bookish to relieve me from the endless rhyming of Julia Donaldson. Give me some RTBCs!
Please.